Times are tough right now, especially for students. It's expensive to be a student and there are only so many expenses that we can cut to save money (do I really need three different streaming subscriptions??). Groceries are essential and it's important to not cut corners when it comes to your nutrition. Instant ramen and Kraft Dinner are great, but they're not sustainable as everyday foods!
Here are some tips to maximize your budget at the grocery store and ensure you're getting the essential nutrients that your body needs!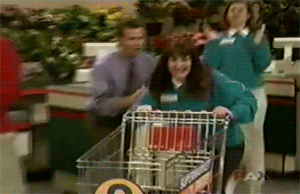 Scope out the best deals in advance
Do your research! Make sure to keep an eye on weekly flyers or download the Flipp app to access them on your device! You can find flyers for all major grocery stores in your area and for some specialty stores too. If you see something that you buy frequently, buy a few while it's on sale! Try to resist buying things that you don't need just because they're on sale. A good rule of thumb is if you've never purchased it before, you shouldn't buy it just because it's $2 off!
Make a list of what you need
Make sure you have a plan before heading to the grocery store. Keep a list at home and add to it whenever you run out of things so you don't forget to restock on your next grocery run. Take your list to the store with you and stick to it. This will prevent you from buying things that you don't need and remind you what you came to buy
Don't shop on an empty stomach
Shopping on an empty stomach is one of the BEST ways to guarantee that you'll spend way more money than you need to. Have a snack before shopping or go to the grocery store right after a meal so you don't end up buying things that you want at the moment, but don't need.
Avoid high-cost convenience items
Pre-cut, peeled and washed fruits and vegetables are convenient, but they come at a higher price point and you usually get less for more money. The same goes for pre-cooked rice and heat and eat foods like frozen dinners or pre-made deli items.
Consider this: a leading brand of 2-minute pre-cooked jasmine rice costs $1.32 per 100 grams, while uncooked jasmine rice costs $0.33 per 100 grams. That's a markup of 400% just to save 13 minutes of cooking time.
Buy in bulk
Buying your essentials in bulk format will save you money in the long run because the price per serving is almost always lower when you purchase more of something. Consider the price per 100 grams or the price per serving when grocery shopping. Make sure you're not buying more than you will consume before the expiry date though, or you'll risk wasting it.
Don't be afraid of store brands
There's nothing wrong with store brands like Great Value, No Name or Compliments! These brands are lower cost than name brands but not lower quality. They're often sold with a "money-back guarantee," so if you feel that they don't match the standards of the name brand, you can return them to the grocery store for a refund.
If you're experiencing an emergency situation where you can't afford food, help is available.
The CSI Food Bank is an emergency food support service for students who are struggling financially or experiencing a tough situation. They distribute regular, vegetarian and family-sized food hampers with a 3-day supply of a combination of non-perishable & perishable (fresh produce and frozen vegetables) food items.
The CSI Food Bank does not offer "free groceries" and is meant to help those who are struggling financially while in school. The service is run on donations and resources are limited.